EB-5 Descriptions and Requirements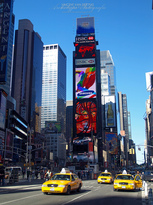 Time Square, New York
EB-5
was created by the Congress in 1990 to stimulate the U.S. economy and create U.S. jobs by attracting foreign capital investment. Investors / entrepreneurs must invest significant amount of money in a new commercial enterprise in U.S. or in a targeted employment center.
A New Commercial Enterprise is a commercial enterprise:
Established after Nov. 29, 1990, or
Established on or before Nov. 29, 1990, which is
A. Purchased and the existing business is restructured or reorganized in such a way that a new commercial enterprise results, or
B. Expanded through the investment so that a 40-percent increase in the net worth or number of employees occurs.
C
ommercial Enterprise
can generally be one of the following business entities: A sole proprietorship; partnership (limited or general); holding company and wholly owned subsidiaries; joint venture; corporation; business trust or other entity (publicly or privately owned).
---
Job Creation Requirements

Create or preserve at least 10 full-time jobs for qualifying U.S. workers within two years (or under certain circumstances, within a reasonable time after the two-year period) of the immigrant investor's admission to the United States as a Conditional Permanent Resident.

Create or preserve either direct or indirect jobs:

Direct jobs are actual identifiable jobs for qualified employees located within the commercial enterprise into which the EB-5 investor has directly invested his or her capital.
Indirect jobs are those jobs shown to have been created collaterally or as a result of capital invested in a commercial enterprise affiliated with a regional center by an EB-5 investor. A foreign investor may only use the indirect job calculation if affiliated with a regional center.

Relevant Topics

Capital Investment Requirement
Capital is defined as cash, inventory, equipment, other tangible properties, cash equivalents and indebtedness secured by assets owned by the alien entrepreneur. The alien entrepreneur must be personally and primarily liable for any debt secured by his assets and the assets of the new commercial enterprise upon which the petition is based are not used to secure any of the indebtedness. All capital must be valued at FMV in U.S. dollars. Capital does not include assets acquired through unlawful means. Required minimum investments are:
Generally the minimum qualifying investment in the United States is $1 million.
Targeted Employment Area (High Unemployment,150% of national unemployment rate, or Rural Area). The minimum qualifying investment either within a high-unemployment area or rural area in the United States is $500,000.
Eligibility Criteria For Green Card
Foreign entrepreneurs will be eligible for permanent residence through investment if they have an approved Form I-526, Immigrant Petition by Alien Entrepreneur; and they are admissible to the United States; and an immigrant visa is immediately available.
Application Process
The application process varies based on where the foreign entrepreneur is physically when the application is filed. If he or she is outside the United States, consular processing shall be used. Consular Processing is when USCIS works with the Department of State to issue a visa on an approved Form I-526 petition when a visa is available.
If the foreign entrepreneur is living inside the United States, he or she may become a conditional permanent resident via adjustment of status by filing a Form I-485. But the Form I-485 can only be filed after an approval on Form I-526 and a visa number becomes available. For more information about Form I-485, please
CLICK HERE
.
Family Members of EB-5 Investor
Foreign entrepreneurs' spouses and unmarried children under 21 can be included on the immigration petition (Form I-526), and they are also eligible permanent residence. Spouses of EB-5 investors can petition to work in the United States by filing Form I-765 for Work Authorization. Children of EB-5 investors can go to school in the U.S.
How we can help you
Our firm is focused on immigration law. Because of the obvious advantages of EB-5 visa, it is becoming an ideal choice for many foreign entrepreneurs and investors. If you have any questions regarding EB-5 Visa or any other immigration related questions or concerns, please feel free to contact Mr. Jimmy Namgyal via phone call or email. We look forward to speaking with you.
Contact Us
---